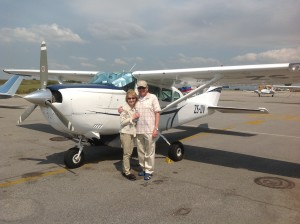 South Africa Safari/Kruger N. Park/Victoria Falls/Dubai: "We celebrated our 50th wedding anniversary during this trip. We had the nice surprise of a dinner in the jungle with the staff providing the entertainment!
Roseli took care of all flights, great accommodations and tours; the African bush and Victoria Falls really exceed our expectations. It was a trip of a lifetime.
Unfortunately in Dubai we had a medical emergency at our fabulous hotel and Roseli came to our rescue and stayed in touch to complete all our arrangements home.
–Bob & Dorothy D., Dayton, OH April 2014
---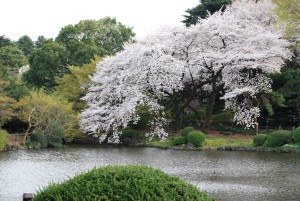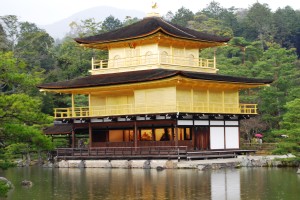 Tokyo, Kyoto and Okinawa: "My husband and I wanted to visit our daughter in Okinawa a specific week in April. We wanted to stay with her for a week and tour Japan either before or after that week. Roseli was able to arrange all our travel plans to exceed our expectations. On Roseli's suggestion, we took advantage of several special day tours, places we had never heard of and we were very happy for her recommendations.
I am still amazed that everything went so smoothly. We were in group tours, but the groups changed every day. With no one on the same itinerary, many, many details were in place only for us.
After seeing Mt. Fuji, we had to catch the bullet train in to Kyoto in the morning. The car arrived as scheduled with a driver and an English speaking guide. The guide accompanied us into the train station, bought our tickets, and waited with us until we boarded the train. We enjoyed our conversation about everyday life in Japan. The attention to detail amazed me. We were able to enjoy our trip confident that everything would go as planned. It was a wonderful experience and the cherry blossoms are indescribably beautiful. We will not hesitate to have Roseli plan our next* trip."
–P.R., Dayton, OH April 2014
Agent's Note: * We did: Peru and Amazon, Fall 2015!
---
Mediterranean Cruise: "Roseli and staff planned an exceptional cruise vacation for our family. One of our members had some physical challenges, thus most of the shore excursions had to be adapted in order to include this member. My family to this day still talks about this trip. I wanted to create memories for them to treasure for a life time. Roseli and staff created this adventure for all of us, which is now recorded in a treasured book. Far Hills Travel will amaze you with their knowledge of the area you would visit and the contacts they have abroad. Our trip was exceptional as was their service and tour guides. You won't be disappointed.
Blessings and thanks for the memories!"
–BSB, Dayton, OH, June 2014
Agent's Note: Upon thanking BSB for the kind words, came the response: "Those of us who have used your services know the time you've put in. Those like me who had a taste of this type of service, know even better. So glad we could give you the kudos you and Far Hills Travel deserve. It's a delight to be of help!"
---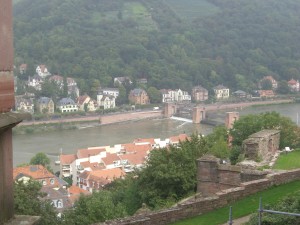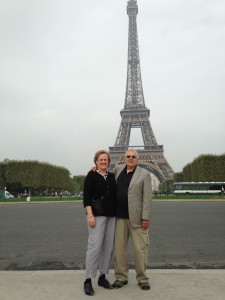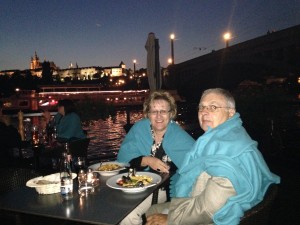 River Cruise "Europe's Rivers and Castles, Paris, Luxembourg/Budapest/Prague:" Far Hills Travel and agents are outstanding. We mentioned what we would like and it happened for us. Without being asked, a reservation at a top Paris restaurant was obtained for us at one of the most exclusive restaurants in Paris. The advice we were given about extending the stay in Prague turned out to be fantastic. We were pointed out some options that we should not select because they were not worth the cost. We loved people watching in Paris, staying longer and the locks on the German River and Prague.
We will never take another trip without their help."
–Vic & V. P. Dayton, OH Sep. 2014
---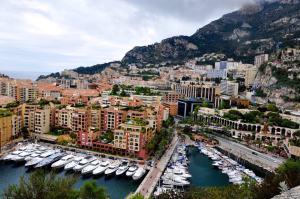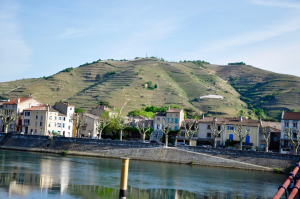 Burgundy and Provence River Cruise: "It was a spectacular trip: Montecarlo's views of the Mediterranean and gorgeous villas along the water are unforgettable. The vineyards in Vienne, France will be visited again, one day!"
–Myrna F., Dayton, OH, October 2014
---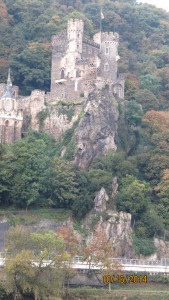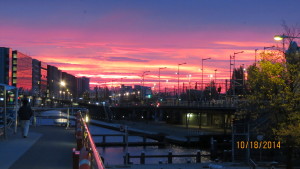 Rhine River Cruise: "This was our first river cruise and was so relaxing with great food, wine and great companions. The Passage through the Rhine Gorge was the most memorable and scenic!
I just wish we had more time to fully experience and explore the local attractions. One day we will be back."
–Ray & Sue W. Dayton, OH, October 2014
---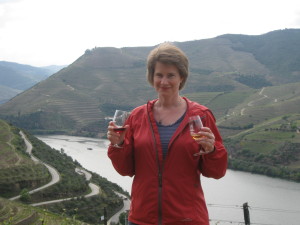 Douro River Cruise: "My daughter always had a glass of wine waiting at dinner – and the waiter also slipped some extra dessert also! The waiter was so efficient, so much fun, the cruise had so many different programs, including a dinner at an old Convent with a twist: the crew members were dressed as monks and nuns to serve us!
The scenery was so full of changes: poppies blooming here and there, grapes down the steep hills almost to the water, a deserted canyon and the rocky river. We marveled at the 115 foot lock: it felt like taking a boat up/down a mining shaft, the look of the banks of the river changing with each lock – a series of micro-climates.
We loved Lisbon and Porto and will be back. Roseli recommended restaurants; "A Gina" was so much fun! Roseli was on top of the itinerary to get us the seats we needed to have. She primed us on what to expect since it was our first visit there and we were not familiar with the language or the food.
We will go back to Portugal – it was what we were expecting: a bit isolated, no crowds, uncomplicated, inclusive.
–Helen D. & Meghan D.S. April 2015, Dayton, OH & S. Carolina
Agent's note: They will be on a river cruise again, October 2016!
---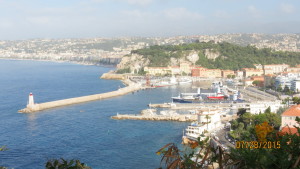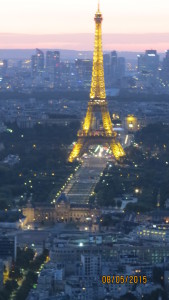 Burgundy- Provence River Cruise plus Paris Stay: "Southern France has unique charm and ambiance. The cruise was relaxing, excursions and food excellent.
The highlight of the trip was the many days we spent in Paris after the cruise. We had a lot of time to experience the city, even had time for a visit Mt. St. Michel, in Normandy.
As usual, only regret, like most travelers – not enough time to do it all!"
–Ray & Sue W. Dayton, OH July 2015
---
Italy guided tour with pre and post extensions: "For our Italy Journey, we were presented with many options: we learned that independent professional guides are well worth the additional cost because they enhance the experience with their personal bits of information and overall intelligence. We loved our dinner reservations made in advance, the Antinory Winery lunch in Tuscany, the Uffizzi in Florence, and the off-hours visit to the Sistine Chapel in Rome."
-Tom C., Columbus, OH, October 2015
---
Destination: Ireland, guided tour: "The planning and selection of activities to attend enhanced our experience. The excursions were fabulous, they furthered our understanding of Irish culture and history, and exceeded our expectations. The Cliffs of Moher, and the Giant's Causeway left us not only breathless in their setting and ambiance, but also with the feel of so much history. The visit to Cobh where the Titanic was last ported before leaving for her tragic voyage is also highly recommended.
Our experience was faultless; the guides' charm made the trip informative and fun. Oh, yes, we will not forget the Guinness experience!"
–J.&S. G. Dayton, OH, Sep. 2015
---
Italy guided tour with pre/post extensions: "Our trip to Italy was so well planned we would not have changed a thing. We combined an 8-day escorted tour with additional time in Venice and Rome. We loved the combination of independently guided city tours and free time afforded by the tour company. The lodgings, food, tour guides were all outstanding. The independently designed custom tours allowed us to experience the ambience and beauty of Venice and Rome at our own pace. Most important, however, was the patient, fastidious, professional, and individual care extended by the agents of Far Hills Travel and our "Travel Angel", Roseli. Without their tireless attention to our needs and wants, we would not have had the Italian experience of a lifetime!
–Maryann.D. L., Middletown, OH, Oct. 2015
---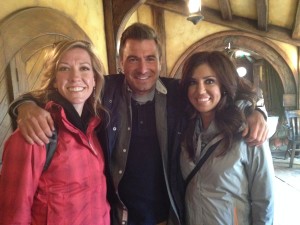 Australia/New Zealand: "Planning for this trip was great! I walked into my meeting with Roseli very nervous (very few agents wanted to meet with me!), not knowing what to expect or plan this big trip; I walked out totally confident and thrilled to take this adventure. I was very happy I chose the different excursions that Roseli offered. We saw plenty in each country in the time we had there, but also had enough time to wander and explore. The suggestion to visit Hobbiton was most memorable* and magical. The zip lining on Waiheke Island was petty amazing.
Even though I live cross country I will for sure be using Roseli again to help plan my next adventure."
–Alyson.W. and Heather R, Brigham City, UT, August 2015
Agent's Note: *Clients had just a few days to do a lot of visiting; we HAD to pare down the itinerary! At Hobbiton they were interviewed by "Jack the Booze Travel Channel" because they were the only ones NOT drinking!
---
New Zealand: Dear Friends & Family,
We don't usually write a holiday letter, but this year we had an amazing vacation in New Zealand and wanted to share a couple of stories and a few photos with you. The idea of going to New Zealand was always there, and after the Lord of the Rings (LOTR) movies, it was further reinforced by the sheer beauty of the scenery that appeared in the films. So, when we were 47 we thought "Hmmm, we're going to be turning 50 in just 3 years, and in order to make turning 50 something to look forward to rather than dread, we should plan an amazing trip." So, we opened a savings account and started saving and used NZ as the inspiration even though we weren't sure that is where we would end up going. Well, we are both 51 now, so we didn't quite make it happen for our 50th, but we did make the NZ part come true.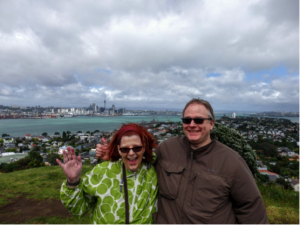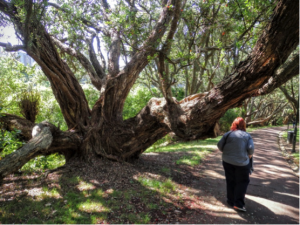 The trip was great from start to finish. The scenery is stunningly beautiful and the variety of types of landscapes was amazing as well. Our trip began in Auckland.
We, of course, did several LOTR tours! We visited Hobbiton… and Mt. Sunday/Edoras. We climbed to the top of the mountain!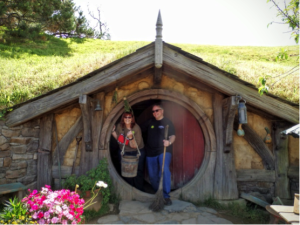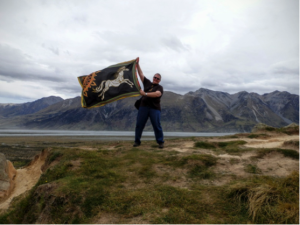 We also visited the fascinating geothermal wonderland around Rotorua.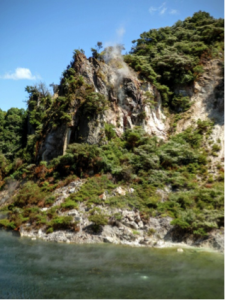 Frank is in training to become a Maori warrior! And Karen is dreaming of a giant salmon…and of the 103-year old TSS Earnslaw on Lake Wakatipu, Queenstown.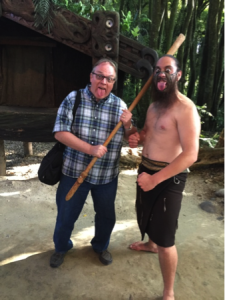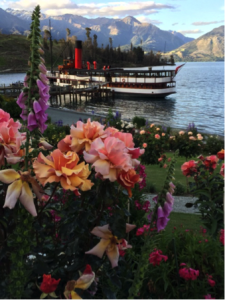 Most spectacular scenery award goes to Doubtful Sound…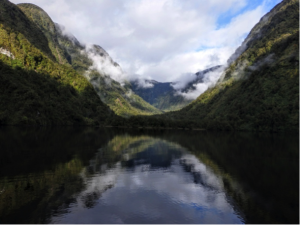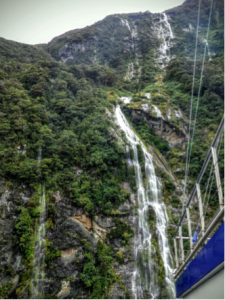 – Frank and Karen, December 2015,  Cincinnati, OH
"I Cannot Rest From Travel I Will Drink Life To The Lees"
–Ulysses, Lord A. Tennyson